events/
Jerome &: The Comedy Variety Show
---
Info
Date
Friday, February 24th

@ 09:30PM EST
Venue
Arcade Comedy Theater

...

...

..., .. .....
Info
Guests
Alex Conti

Greg Gillotti

Mindy Cooper

Sara Kantner
Lineup
Nonsense

Tyler Ray Kendrick
Jerome & the comedy variety show inspired by (and maybe involving) you returns to Arcade!
Improv, Stand-Up, Music, Oh My!
There's "Yes &" and then there's "Jerome &" the comedy variety show that combines improv, music, sketch, stand-up, & you! Jerome welcomes local friends and out-of-town pals to provide you with a night full of hilarity unlike any other. This month's special guests:
Music:

Tory Silver

("

Slowly

")

Improv:

Mindy Cooper

(Well Known Strangers, Moop Troop)

Stand-up:

Tyler Ray Kendrick

Sketch:

Sara Kantner

with resident house team

Nonsense

, and surprise guests galore!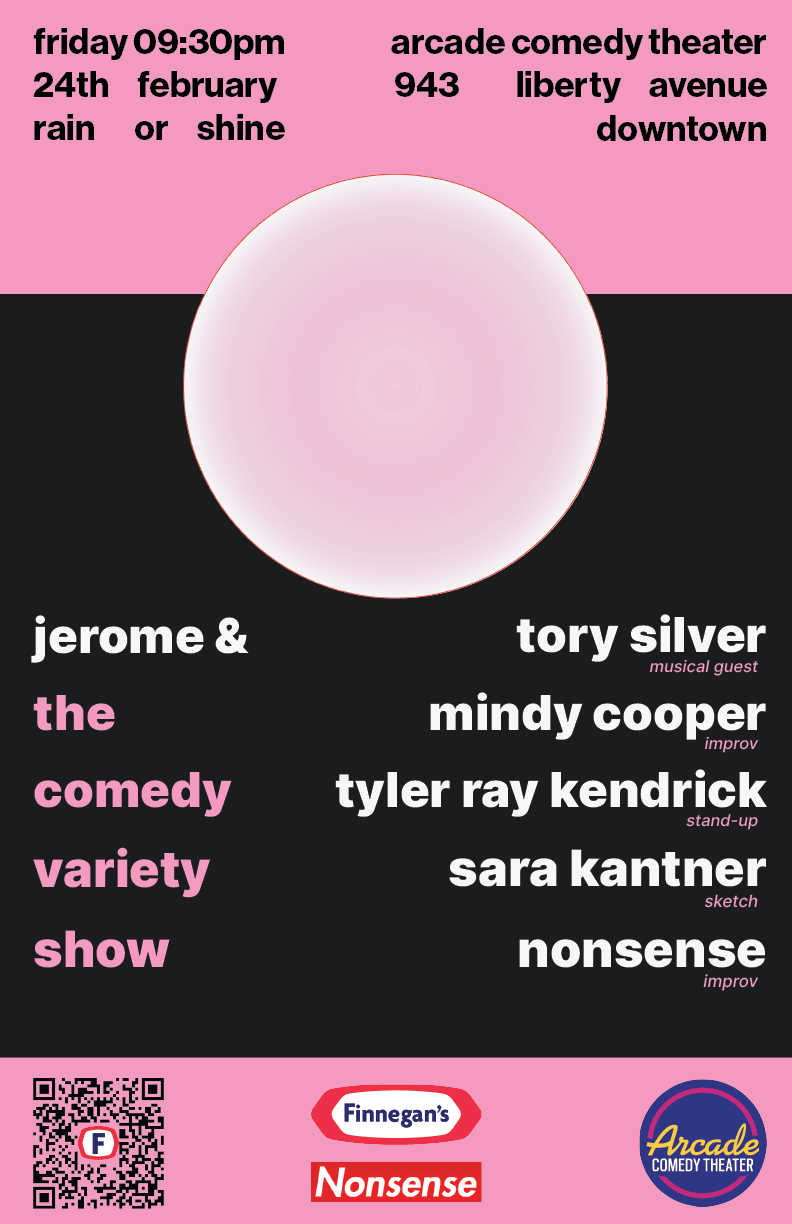 Show Poster
Jerome has been a mainstay at the Arcade Comedy Theater for 10 years (once we hit our 10 year anniversary in February)! Producing and performing shows with Warp Zone, Alex O'Jerome, The Justin And Jerome Experience, The Death Show, The Playlist, JFLE, and as a cast member of Bubble Boy: The Musical. He's featured at SF Sketchfest and other festivals from NYC to Chicagoland to San Diego and in-between. You're in for a real treat!
Come for the laughs, stay for the laughs, leave with them laughs.